At Trips With George, we're your GLBT Travel Experts. With over a decade of experience in the travel indusry combined with an understanding of the unique needs of the GLBT community, we can ensure your next vacation will be the best. Whether you're looking for a gay singles cruise, a couples retreat, a family outing, accomidations for Pride, or just a low-key weekend, Trips With George will help you plan a trip that is memorable, fun and safe.
Keep the business in the family. Give us a call at 1-800-266-9152 or check out some of our GLBT-exclusive vacations. We always offer the lowest prices available and give you personal service at no extra cost.
Clink the box below and you can view GLBT Friendly Resorts

---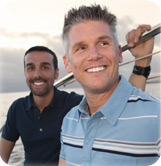 Have you ever been on a charter where the entire crowd is GLBT? When you are going to spend a week or more with the same people, you want to know you will be able to relax and enjoy yourself and the company. Be yourself on one of our great gay and lesbian cruises.
---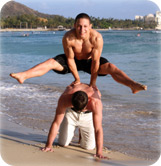 It's hard to put a price on a great vacation, but luckily at Trips With George, we seek out top LGBT Tours and Resort Packages that ensure memorable vacations at an exceptional value. Whether you want to go on an exciting guided gay tour, trekking through a foreign country, or you want to relax at a chartered all-inclusive GLBT beachfront resort, you owe it to yourself to check out our Gay and Lesbian Vacation Packages.
---

Atlantis Events is the largest gay and lesbian tour operator in the world, hosting some 20,000 guests annually. Atlantis selects the world's top-rated ships and resorts, introduces signature entertainment and legendary parties, and brings together a diverse group of gays and lesbians from around the world to create a friendly, welcoming environment that makes everyone feel comfortable. Each of their events is a place where you always can be yourself, be entertained by the best, and have fun in ways you never thought possible.
---

OutWest Global Adventures is one of the top companies in gay/lesbian active and adventure travel. OutWest has been in business since 1995. In 2006, OutWest was the proud recipient of PlanetOut/gay.com's "Best Gay Tour Operator" award.


---

R Family Vacations is truly one of the most inclusive GLBT vacations offered. All of R Family vacations are designed for gays, lesbians, their families, and their friends. Everyone is welcome — singles, couples without children, couples with children, groups of friends, grandparents, and almost any other family configuration you can think of. They have hosted three-month-olf babies and 80-something grandparents. R Familiy's entertainment and programming is designed for various age groups. They are also always mindful that their guests are people of all ages, genders, backgrounds, and sexual orientation.
On R Family vacations, there is sincere acceptance. Experience the GLBT vacation that everyone is talking about. Be a part of R Family.


---

With over 20 years of creating amazing vacations for gays and lesbians, RSVP creates cruises where passengers are free to express thier inner and outer selves in a welcoming and embracing environment.
On each and every trip, RSVP offers an incredible variety of activities, the most diverse crowd, the friendliest & most experienced staff, and the most welcoming environment. But don't take their word for it, watch a trip video or get word of mouth testimonials from past RSVP Vacations travelers.
---
Toto Tours' mission is to provide small group adventure travel opportunities for gay men, and to promote understanding and acceptance through interaction with fellow travelers and other cultures around the world.
---
Venture Out now has a decade of experience as a "smooth operator". At Venture Out they personally design their own unique small-group tours for gay & lesbian travelers and friends. Currently they offer superb escorted vacations in as many as 10 countries. Venture Out's trips offer a cultural and/or an easy adventure focus, and the vibe is always casual. With few exceptions, the size of their tour groups is always kept small — usually 12 to 15 participants maximum. Special emphasis is given to fine accommodations and meals as well as the excellent guides who lead our trips.
---

Zoom Vacations brings you the best fabulous destinations in the industry! From exciting excursions to tantalizing cuisine, their vacation pacages have it all! Plus, there is plenty of free time set aside for you to do you own thing. You are sure to return from a Zoom desination having fallen in love with it!
If you're interested in taking a cruise, you should know that Zoom Vacations' luxury yachting voyages on Sea Dream are radically different from other cruises on the market. If you like the idea of waking up to a new and exciting place every day, but are leery of the often low quality food, service, and staterooms of the larger ships geared towards mass consumption, than this is the perfect option for you!
With a Zoom voyage, you will enjoy award-winning cuisine and service while experiences the world's best ports of call--ones which big cruise ships can't even enter! Plus, our yachting voyages feature open bar, complimentary use of water toys, and so much more. It is truly effortless vacationing.